Colin
Benbow
Macadamia Grower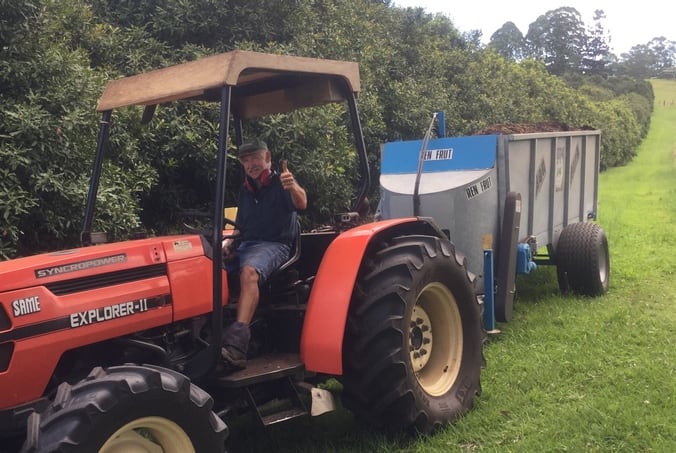 I purchased a Renfrut galvanised hot dipped side delivery compost and manure spreader from Tuffass Machinery, having known Shaun Stead the owner for more than 20 years. The machine does exactly what I want it to do and exactly what Shaun said it would do.
I have used it for several seasons spreading chicken litter, sugar cane millmud, wood chip and soil without any issues. It's a capable and affordable machine that every orchard owner can afford.
- Colin Benbow, Jiggi, NSW (2017)
---
Daniel
Blanco
Macadamia Grower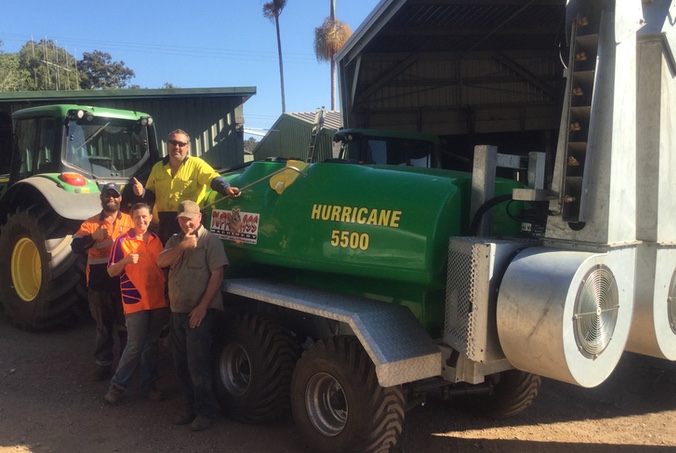 NEW Tuffass HURRICANE 5500LT sprayer has NO equal in Macadamia orchard.
By Daniel Blanco
Daniel Blanco of Belmac Pty Ltd has just completed a full spray season with the latest innovation in sprayers from Tuffass Machinery in Lismore, NSW.
Belmac has a total of 42,000 macadamia trees in several locations around the Gympie area of Queensland. With trees ranging between 8 -12mts in height on row spacing's of 10mt x 4mt and 8mt x 5mt. Averaging a total of six (6) complete spray rounds per season.
On delivery and testing of the spray unit it was discovered the average speed of 6.5km/h can be maintained whilst applying 10-12lts/tree depending on the density. This means a full tank of 5500lts can be applied every hour. Manoeuvrability of spray direction with two (2) adjustments per side, make it easy to place the chemical where it is needed in the canopy, with all adjustments made from within the tractor cab.
The sprayer was supplied standard with a rear steering axle. It is perfectly balanced when travelling when full or empty due to a rocker beam suspension and 4 wheel braking, which makes it possible to spray safely and easily with 14 degree grades and slopes. Very stable.
The galvanised chassis and trailer is strong and features platforms, rails and great accessibility to the rear nozzles. Every component is easily accessible for daily servicing. An added feature is a separate 1000lt flush tank to ensure nozzles and pump can be flushed with clean water at any time and of course a hand wash tank for personal hygiene.
The 2018 season saw us apply 2.77million litres with the NEW Hurricane sprayer. According to our and our entomologist records the past six seasons of our operating these farms our spray results have not been this successful, and this has been a season of high insect pressure.
The investment in the Hurricane sprayer developed by Shaun Stead at Tuffass Machinery Lismore will return its value in one season due to full and correct spray coverage achieved at a speed unheard of in the industry.
I can highly recommend this model sprayer to anyone in the Macadamia industry.
- Daniel Blanco, Wolvi via Gympie, QLD (2019)
---
Daniel
Blanco
Macadamia Grower
We purchased a side delivery spreader from Tuffass Machinery in Lismore NSW. I met the owner Shaun Stead at Farmfest in Toowomba QLD and after some discussions I realised he made exactly what we needed to deliver soil, compost, etc. under our tree line in our orchards.
We bought a large SR model, or in other terms a rotative model. Shaun had lots to choose from making a machine to suit any material and any orchard, with 5 different types with 18 different models. We bought the Tuffass machine because of its rugged construction.
We then set about spreading over 4000m3 of soil in 9 days on our own farms in areas we had no trees. This soil was mainly heavy sandy types that would have destroyed most spreaders available on the market, but not our Tuffass machine - it did it and more!
Very happy with the machine and the advice from Tuffass Machinery
- Daniel Blanco, Gympie, QLD (2017)
---
Scott
Fullerton
Macadamia Grower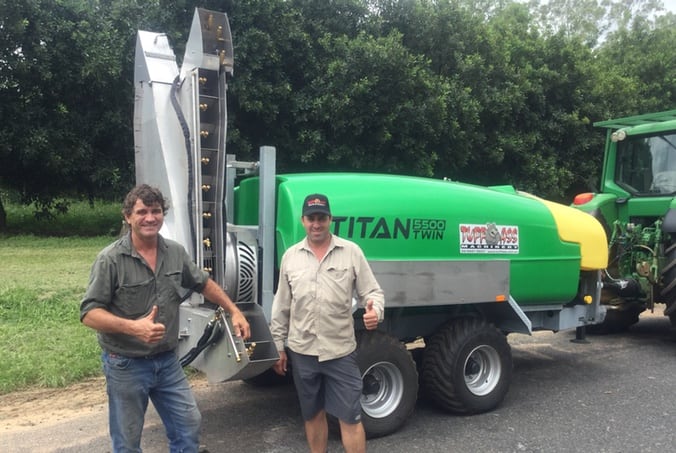 We purchased a new sprayer from Tuffass Machinery to suit our operation involving macadamia orchards. We spray around 40,000 trees so needed a capable, reliable unit.
Shaun recommended his big Titan 5500L model featuring twin fans and a complete macadamia tower, including bottom wings. This machine now sprays our orchards properly including the tallest of trees at a speed nearly twice as fast as before, while saving us time in labour, and lots of fuel. Our John Deere 6630 easily operates and pulls this large unit around our slopes.
Tuffass Machinery calibrated and set up the unit to operate at reduced revs saving us approx. 5L of diesel every hour of operation - this was a added unexpected bonus.
- Scott Fullerton, Beerwah, QLD (2017)
---
Matt
Gannon
Macadamia Grower and Contractor
I purchased a heavy duty mulcher from Tuffass Machinery in Lismore. I purchased the machine after much research and pricing, and any similar quality machine was at least 30% more expensive. Shaun at Tuffass gave me a great deal and I haven't looked back.
Having done more than one season of contract work for clients I'm more impressed than ever with the quality of the TUFFASS FTP 260 mulcher I purchased. At times when contracting I have had to operate this machine well beyond the capacity of any Orchard Mulcher I have seen, processing large chain saw pruned orchard prunings in Macadamia orchards without any issues.
The Tuffass supplied machine has been terrific to use and the back up and advice has been great. We are now planning our next purchase from these orchard machinery specialists for next season.
- Matt Gannon, Dunnoon, NSW (2017)
---
Greg
James
Macadamia Grower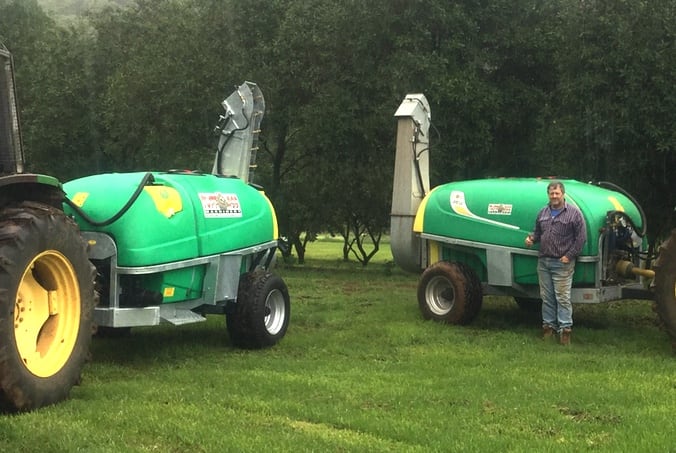 We purchased one of Tuffass Machinery's new purpose built Bora macadamia sprayers. We were so happy with the machine and its benefits that we bought another Macadamia Bora model of 3000L capacity 6 weeks later!
The benefits these machines offered over any previous machine we had owned or used were evident within minutes of seeing it demonstrated. The excellent coverage we now obtain on our 15m high trees at speeds twice what we previously travelled was the first tick.
The fact that independent testing (by myself) demonstrated it was operating at noise levels up to 20db below our previous machine (110db), and these levels were below the noise of our tractor (92db). This meant we were not upsetting any of our numerous neighbours and could use the sprayer with its twin hydraulic adjustments so there was absolutely no spray drift away from the canopy. This made for better coverage and again no concerns from any neighbours. So we bought 2 machines to get the best out of our crop and spray timing.
- Greg James, Knockrow, NSW (2017)
---
Barry
Kunhell
Mountain Top Magic Avocados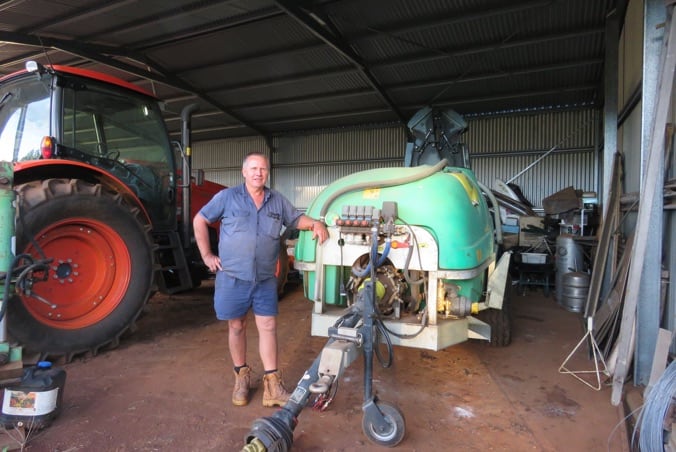 When we purchased our first Avocado orchard nearly 20years ago, I was given great advice from an old experienced grower. His advice was when purchasing a sprayer, "buy the best machine possible to do the job, it will pay for its self over and over". I used this advice when researching for my new sprayer purchase last season and have been certain since then I have made the right decision.
I purchased a Tuffass/Extreme 3500Lt sprayer with twin 800mm fans. The other features of this sprayer are its high volume , high pressure brass Comet pump. The tower produces clean powerful air flowing through the individual conveyers with high distance adjustment on the top section, this allows us to minimise any drift and adjust for canopy size and terrain while travelling at over twice the speed of our previous modern sprayer.
Finally we couldn't be happier with this purpose built machine and it compliments our side delivery mulch spreader,woodchipper and fert spreader we purchased from Tuffass Machinery early last season.
It's good to find a one stop shop to that supplies quality specialised orchard machinery like Tuffass Machinery.
- Barry Kunhell, Mountain Top, NSW (2017)
---
Peter
Maslen
Earthmoving, Farming and Contracting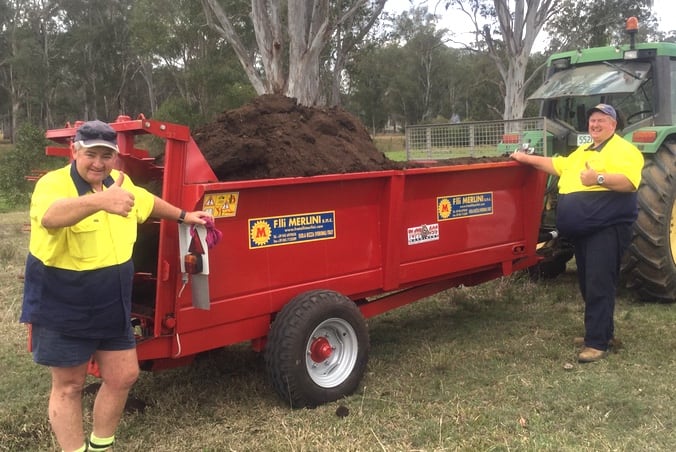 We bought a small rear beater manure spreader from Tuffass Machinery at Lismore. This little machine is an amazing little worker and extremely well built.
We spread any material we want with it. On delivery we spread 500m3 of aged cow manure that was the consistency of clay and it broke it into small pieces and spread it as even as we could of expected of a machine twice it's price. To be able to buy a machine for under $20,000 plus GST that could spread anything we might do in our earthmoving, farming and contracting operation was unexpected. It's been working constantly since delivery.
Shaun From Tuffass Machinery delivered the machine and stayed to help set up and supervised its spreading and calibration for as long as we needed to be happy with its operation.
- Peter Maslen, Mallanganee, NSW (2017)
---
Dennis
Whitney
Macadamia Grower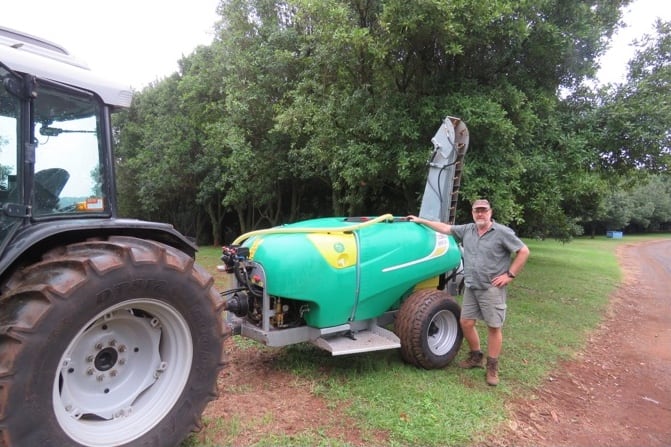 Over a decade ago while attending a spray field day, a grower made the comment "I couldn't possibly use a single sided sprayer because it would take twice as long". At the time I thought if this type of sprayer did the best job it would still be worth using.
Fast forward to today and after using the new Tuffass/Bora developed by Tuffass Machinery last season I know it doesn't take twice as long. When spraying all the other functions – filling, mixing chemicals, travelling and cleaning the tank take the same time. The real difference is with this new sprayer design I'm now getting good coverage on my 10-15mt high trees, while travelling at 4.2km/h instead of 2.9km/h like before.
The twin hydraulic adjustable tower operating on my slopes gives me the confidence I am spraying my taller, thick trees properly. I can then move into my 6yr old trees and simply adjust the tower from the tractor easily.
This sprayer fits through my 7mt rows easily with its unique narrow tower design which can be also folded down to fit into a standard garage door.
Finally to achieve proper spray coverage on these tall trees with a minimal HP tractor didn't seem possible until now- I couldn't be happier with the whole package.
- Dennis Whitney, Nimbin, NSW (2017)
---
Let us fit you for a machine
Our product experts can help select the right machine for your needs
Special Offers
Check out our current special offers and new stock